The Limerick Chamber Regional Business Awards 2022 returns for its 11th year, with the ongoing support from TUS Midlands Midwest as a key sponsor since its inauguration, as well as category sponsors whose unrelenting support provide the opportunity to help acknowledge the pioneering work and impact generated by businesses and initiatives across the Midwest.
Limerick Chamber is delighted to welcome the return of the highly attended Limerick Chamber Regional Business Awards and President's dinner following a restricted lunchtime event last year. The much-anticipated event will take place on the 18th of November in the Limerick Strand Hotel, all winners will be announced on the night, along with, an address from Limerick Chamber President Donal Cantillon of Focus Capital and John O'Doherty of AIB, sponsors of the Presidents dinner.
The Independent and esteemed judging panel faced the arduous task of deliberating the shortlisted companies following a review of each and every application. This year's panel faced a difficult challenge in shortlisting companies across eight categories, hearing the wonderful and inspirational journeys of resilience and ingenuity from organisations across the region, as well as wonderful collaborative initiatives and foundations working tirelessly to support an array of divisions across the Midwest.
These awards recognise and reward business excellence, innovation, best practices and outstanding business performance. The awards are designed to acknowledge companies in the local region that strive for success each day.
The eight award categories were designed to recognise the hard work, commitment and innovative approach each company has showcased which has not only contributed to their own success, and excellence but also their contribution to the growth of the region.
On the night of the 18th of November, the highly awaited announcement of the 2022 Best Overall Business of the Year Award will also be announced. This award, sponsored by TUS Midlands Midwest will be presented to an applicant chosen by the judging panel whom they believe submitted an outstanding application and has made significant progress in the region.
Dee Ryan, Limerick Chamber Chief Executive said, "It is shortlist announcement time, on behalf of the awards team, I'd like to thank the more than 100 companies; who engaged with us across the application process this year. Once again, the judges were blown away by the very high standard, there was much and repeated debate I'm told with tough decisions made. Today we are revealing the finalists in each category, whose achievements we are proud to shine a light on and celebrate. Congratulations to those who are shortlisted, thanks again to our category sponsors and overall sponsors TUS Midlands Midwest for helping us celebrate the incredible business achievements in the region. We look forward to meeting you at our awards on the 18th of November"
We are so proud in Limerick Chamber to be able to shed light on the many wonderful stories shared, and of course help recognise and celebrate the efforts of so many. This year was the toughest year yet for our judges, the deliberations carried out over days. It gives you an idea just how tough the decision was. We are looking forward to the return of our Limerick Chamber Regional Business Awards and Presidents Dinner on the 18th of November, we are excited to welcome you all back once again. Thank you to everyone who took the time to enter, and of course, congratulations to those shortlisted. We are especially thankful to our panel of judges, who put so much time and effort into reviewing and debating this year's applications. A special thanks to our sponsors-both TUS who have supported the awards for 11 years now, and to our category sponsors who supported us in reaching out to their networks and encouraging applications, they make it possible for Limerick Chamber to be able to offer this opportunity to businesses and communities locally"
Dr Liam Brown, Vice President Research, Development & Innovation, Technological University of the Shannon: Midlands Midwest, overall sponsors of the 2022 Awards, said: "These awards are particularly important to TUS, as we strive to deeply connect to our community, as we seek to understand your needs as businesses, not for profits and individuals. These awards aim to showcase and celebrate the best in class in business achievements in the current environment as well as offering a platform for organisations that enables them to use the awards to support their own goals and realize their vision for their business. The Awards help you celebrate and be rewarded for your efforts; We have witnessed many great celebrations over the last 11 years and the value they bring to many of these organisations. These awards must be carefully noted and designed to reflect the business environment, the challenges and opportunities faced by companies in the region. They represent a moment in time for you, and your company, for today's shortlisted companies this makes them special indeed, we also know the calibre of entries was very high, those who have not been shortlisted this year should not be deterred, you are doing great work"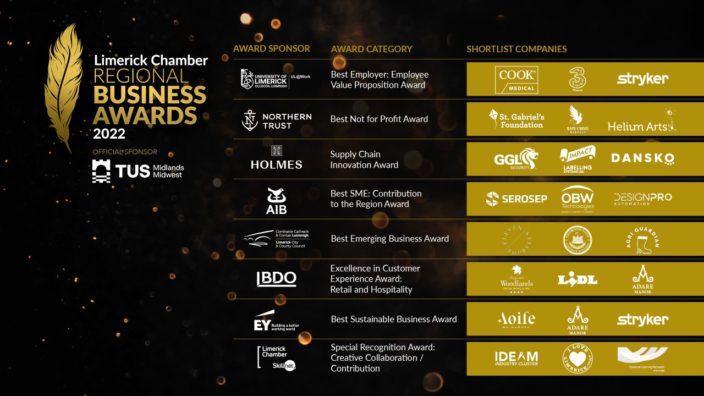 You can follow the journey to November 18th across all Limerick Chamber social channels, keep informed and follow us on LinkedIn, Twitter, and Instagram or visit www.limerickchamber.ie
Limerick Chamber Regional Business Awards Independent Judging Panel:
Chair: Lorna Conn, CEO- CPL Ireland
Tomás Sercovich, CEO-Business in the Community Ireland
Maria Couchman, Senior Craft and Education Advisor -Design & Crafts Council Ireland
Liam Woulfe, CEO- Grassland Agro
Sean Lally, Manager & Co-Owner-Hotel Woodstock
Paul Shelly- Independent Non-Executive Director (INED)